We are open Monday thru Saturday, 11am to 4am, and Sundays from 4pm to 4am.
Bar info and Food Orders: (212) 684-9472
Band Bookings and Office: (212) 685-0901
Fax and Voice Mail: (212) 532-4633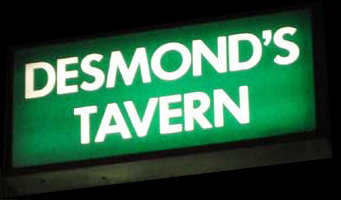 Desmonds Tavern has been operating as a traditional New York Irish bar since 1936; it is the fourth oldest continuous operating bar in Manhattan. Its customers have been mainly New Yorkers working and living on Manhattans east side. Such notables as Paul McCartney, Linda McCartney, Shane McGowan, Kevin Costner and Forrest Tucker have been seen at the bar. Veronica Lake was a waitress here in the 40s. Lady Gaga was a regular here before she became famous!
We serve nine different brands of beer and stout on draught and over a dozen different brands of beer in bottles, depending on time of year. Desmonds is open 7 days a week, with live music every Thursday, Friday and Saturday. You can find Desmonds at 433 Park Avenue South between 29th street and 30th street, just 3 blocks from the Empire State Building. Desmonds is easily reached via subway - Take the #6 train to the 28th street stop - You will see our familiar green sign when emerging from the subway exit!